Cubicle decor: chic tips for decorating your desk
How to decorate your office or cubicle at work
Cubicle decor is dull no more! For a lot of us, living the cubicle life is just a part of our everyday experience. It's a part of mine and I often find myself feeling a bit like a Dilbert comic strip in my confined square office space. Being in such a grey, drab environment is not how I prefer to spend 8 hours of my day so I have taken it about myself to turn my work space into my home away from home. I find that a more cozy, comfortable office means I can be more relaxed, focused and intentional with my work. Being organized means I know where everything is – and it can look pretty too. Here are some professional and affordable cubicle decor ideas to add to your own home office, traditional office room or work cubicle.
Chic cubicle decor to get organized
This is what I had to work with. What's pictured here isn't my current work space but it doesn't matter because all the cubicles are the same! I've had to move my desk a few times over the years so I figured I should beautify the space I was given and find a better home for all my folders, paperwork, knick knacks and other essentials.
Ok, I have to admit, my desk does not stay this clean all the time now, but it sure does look more beautiful! I chose a color palette of blue and teal to theme my office around. This included things like color-coding my files and paperwork into proper folders and binders. For all my little knickknacks, I found this cute paper box desk organizer that has tons of compartments to hold highlighters, binder clips and more. A colorful blanket added some life to the space and is usually a necessary requirement in cold office buildings.
Affordable and chic cubicle decor
Sales are your best friend so be patient with your office makeover. You don't have to get all new items right away – be thoughtful of the things you really need and take your time to find the right pieces. During a peruse in the clearance aisle at Superstore, I found two ceramic vases for $2 each! To keep on budget I chose affordable decorating touches like fake flowers rather than having real flowers at my desk. Graphics and photos are also a great way to liven up a workspace like adding a poster to spruce up my cabinet. The bike poster is actually Papyrus gift wrap paper that I decided to hang up instead – it was only $5 on sale and the perfect fit for my aesthetic. Tada – simple and easy steps for chic cubicle decor.
Practical office decor is a must
Yes, that is a pot holder! I bring my own lunch to work everyday and it usually requires some microwave heat treatment. I also gave the grey cabinet a little love with some temporary washi tape on the edges. Cute and fun!
Organizing your cubicle decor with style
Every girl has a variety of shoes that they keep at the office. This storage basket is an classic way to keep them stored and out-of-the-way.
A good desk lamp goes a long way to combat the fluorescent lighting in most offices. My desktop background is also another area I like to beautify with motivational sayings to inspire me throughout the work day. There are many free wallpaper options online or you can get creative and Photoshop your own.
I ended up using some other jars for pen holders so I decided to turn this box into my business card holder.
Get personal with your professional workspace
Bringing some personal pieces to work help brighten up your day too. I printed off my favourite Instagrams into square prints so I can have my favourite memories around me. London Drugs offers affordable print options at just 39 cents a piece.
Repurpose and reuse items for your office decorating
Traditional office supplies can be quite pricy so opt for cheaper ideas by getting creative! My wine rack desk organizer probably gets the most attention from my co-workers. I love to repurpose non-traditional items to do different functions. This rack lets me put away all sorts of items in a clever, yet practical way.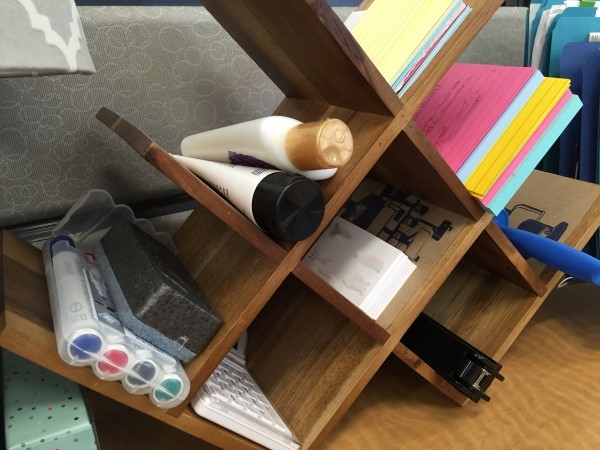 For the main desk area, I found this awesome gold kitchen placemat and used it underneath my keyboard for some glam! My monitor risers are covered in some trendy burlap to hide the plain plastic underneath. It's amazing what a little fabric can do for decor.
What do you do to make work feel more like home? Have you found a way to get creative with your cubicle decor? Let me know your office decorating tips by commenting below or tweeting me at @heyseto.