Inside Calgary's new Central Library
Welcome to the new Central Library! This new icon in Calgary's East Village area was four years in the making, but it is totally worth the wait when you finally see inside this newly reimagined library. In the digital age we now live in, it may seem like libraries no longer have a place in society. But the new Central Library will offer up so much more than books as it sets itself up to be a truly collaborative community hub to help Calgarians learn, grow, and connect with others. And best of all it is completely FREE for all visitors! Calgarians should be very proud and excited of this world-class facility right here in Calgary.
Here's a behind-the-scenes look at the beautiful spaces and places that you will fall in love with at the new Central Library.
The architecture of the new Central Library
There's is much to appreciate in the design of the new building – inside and out.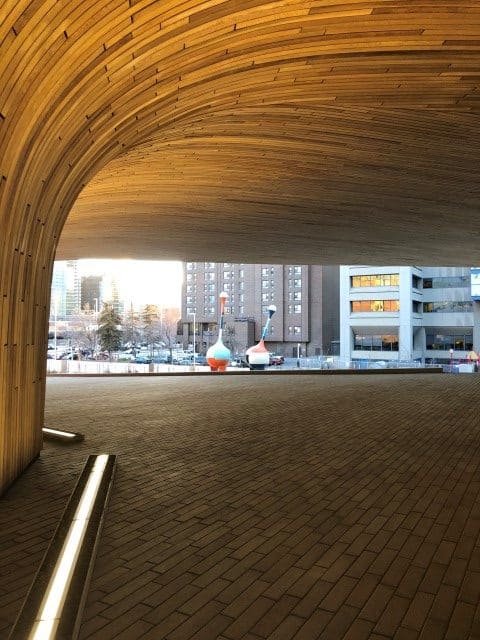 To enter the library, you will encounter The Archway. Made of stunning wood panels, and inspired by the chinook arch clouds, this entrance way also acts a pedestrian corridor connecting downtown to the East Village. You will also meet the TRIO, a set of 'drinking birds' that will greet you on either side of the building.
What's cool is that the library is built over a C-train line! The Prow juts out over the mouth of the Calgary Transit tunnel to create the apex of the building. The first 18 months of building construction was just to encase 150 metres of LRT track with concrete foundation to build the base for the new Central Library. This is quite the engineering feat and the first time this was done to an active LRT line.
Inside you will find The Oculus, the central skylight that will bring in Calgary's many bright sunny days.
The Children's Library
Families will be super excited to explore the 12,000 square feet of space that has been put into the kids area. The Children's Library will give the youngest of visitors room to explore, nooks to play and read in, spots for storytime, tons of books and even a Nursing Room for parents to use too.
As you walk through the space, you'll see each section age up to accommodate different learning stages for kids going from picture books and play areas to full fiction novels and a virtual reality school setup. The Questionarium is for older kids to solve challenges through games, artmaking and more.  Many free Calgary Public Library programs will be made available from baby programs, family storytime to after school programming for kids and teens.
Among many highlights in this area is the Moms' Stairway that honours all moms past, present and future. This area connects the inside LUKES coffee shop to the start of the Children's Library area. Hang out with other parents on the steps while your kids are off playing.
Interested in taking a class at the library but don't have a babysitter? Not a problem – the Calgary Public Library is piloting a new child-minding service at the new Central Library so parents can drop off their kids as they pursue their own learning opportunities. How great is that!
Public art in the new library
Not that the building isn't beautiful enough, but the new Calgary library is also home to a variety of public art pieces.
Throughout the building, donors were able to provide their own custom inscription to add to the unique window sills of the library. These legacy pieces were a way for Calgarians to make their own mark on the library. I donated and can't wait to go find my name on the window.
Over 11,000 books were used to put together this custom fish artwork by Christian Moeller. Don't try to pull a book out (I only know this because I saw someone try. It wasn't me).
Beautiful murals are located throughout the building. This piece is three separate works completed by local Aboriginal artists.
Art exhibits are also located throughout the space. The library's architect Snøhetta has a limited-run exhibit showing different 3D renderings of the new Central Library.
Technology and meeting spaces at the new Central Library
One of the most important goals of the new Central Library is to make it an inclusive and safe space for all Calgarians to enjoy and visit. There is honestly a space for everyone to enjoy – loud spaces, quiet spaces and everything in between. The new library is providing tons of new programs, resources, and technology in addition to the traditional beloved books. All of this is available with your free Calgary library card!
There are over 33 meeting rooms that library cardholders can book for free. A variety of seating spaces are available throughout the building from comfy chairs, hidden nooks and traditional study cubicles. Students and freelancers can rejoice! I see the library being a great meeting space for all kinds of community groups and gatherings moving forward.
For those that love the traditional library feel, the TD Great Reading Room is a designated quiet space where you can find a little peace from the hubbub of the rest of the library.
There are two LUKES café options – one inside the library by the Moms' Stairway and an exterior restaurant as well. Drinking coffee or eating a snack is allowed in designated areas of the library. Woohoo!
Over 200 computers are available to the public or even borrow a Chromebook to use from the Digital Learning Lab. If you've been interested in starting your own Youtube channel or creating your own podcast, the library is making free recording and production studios available with all the equipment, green screens and tech you need to get started. You'll also find gaming stations and a variety of video games on-site to play to your heart's content (or until your video game character gets axed).
The Performance Hall is also a great theatre addition for Calgarians and can be booked for very affordable rates. Priority will be given to not-for-profits who need the space for conferences and other events.
On the 4th floor is where you'll find Calgary's Story. The library has pulled out tons of items from their archives to make it more accessible to the public to use and view. You'll also find workspaces where an artist-in-residence, author-in-residence, and historian-in-residence will be on hand working and sharing with members of the public.  Space is also set aside for Indigenous placemaking and an elders guiding circle  to allow them to set office hours and meet  with members of the community at the library.
If this sounds like a lot going on, I've barely scratched the surface at all the different things that will be going on at this new library. It's truly amazing how many community activities have been jam packed into one building. Visit calgarylibrary.ca to check on hours, activities and upcoming programming.