Follow my Lead: Kristen Dyck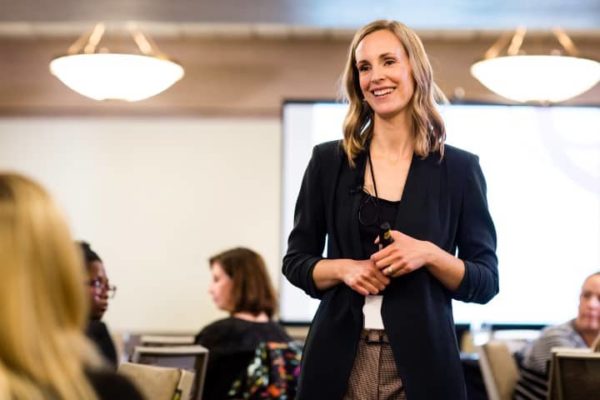 Kristen Dyck
Tell us a little bit about yourself
Kristen Dyck: I'm a wife, mom, daughter, sister and friend. Oh, and I was once told, "You do great work, but no one knows who you are." It was a big moment for me. Through trial, error and bravery, I developed my own personal brand and achieved my professional goals. After that I launched AVRO Creative in Calgary to show other women how to do the same.
What is personal branding exactly? Why did you start a whole consulting business around it?
Kristen Dyck: I started AVRO because I saw for myself how powerful personal branding is. It is a skill that helps you clarify and communicate your value.  I want to arm women with this skill to help them reach their goals, and so that we all benefit from having more women on leadership teams, in the C-suite and on boards.
Diversity in all its forms is the right thing to do. Not only that, it is a competitive advantage and is what sets good businesses apart from great ones.
Why do you think someone needs to invest in personal branding? 
Kristen Dyck: It helps you get to where you are going – faster. Personal branding is a way to build trust so that you can lead, teach, sell and collaborate with other people.
If you want to do any of those things, considering what other people need to know about you in order to trust you is really important.
Personal branding with Avro Creative
Why do women especially need to have personal branding?
Kristen Dyck: It's important women know how to effectively communicate the value of their hard work and be seen.
To stay competitive in the world economy and to solve the big problems we face, we need diversity in our leadership. Right now we don't have that.
Personal branding is a way to build trust so that you can lead, teach, sell and collaborate with other people.
What does a day in the life of Kristen look like?
Kristen Dyck: Each day is different! I run a business and have two little kids. I have dedicated family days and dedicated work days.
On work days I'm around the city running corporate workshops, hopping on my computer for video calls with clients, or in my office writing. I work from my home office and from Worknicer's Red Mile coworking space.
On family days I'm playing outside with my kids, doing things around the house and volunteering for a professional association and in my neighbourhood.
How do you keep yourself motivated and inspired?
Kristen Dyck: I'm so inspired by my kids and their tenacity. My daughter just learned to walk and I watched her fall down over and over again, and get up every single time and try again.
My son is four and will do anything to get his way. It's a good reminder to me that you get out of life what you ask for and sometimes you need to be bold.
Personal branding as a business
What advice would you give to other women looking to start their own business?
Kristen Dyck: I would say DO IT. If you have a solution to a problem, go for it. Don't ask for permission from anyone. Define success on your own terms and figure out your own path to achieving it.
What is your favourite thing to do in Calgary?
Kristen Dyck: Just one? There are so many great spots in Calgary. I love going to the Simmons Building and grabbing a pastry from Sidewalk Citizen, an americano from Phil & Sebastian and walking along the East Village Riverwalk.
Are you a leading local lady with a story to share? Drop me a line at irene[at]mintandheritage.com to let me know about your special skill, business, or passion project and you could be featured next.