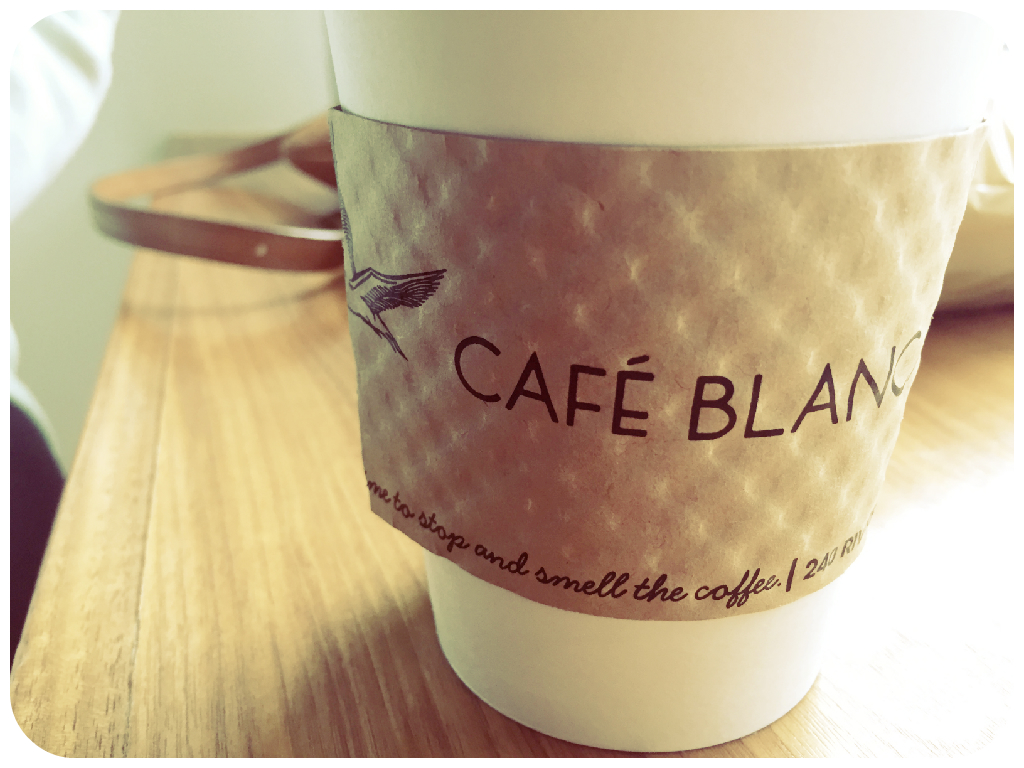 Cream & Sugar: A visit to Eau Claire's Cafe Blanca
My girlfriends and I love to meet up for coffee and chats – it's our favourite way to catch up with everyone's busy schedules. These gabfests usually turn into hours long hangouts as we share the latest and greatest updates with one another. But finding a place a good place to enjoy a cup of joe can be difficult when everyone else has the exact same idea. Table space at coffee shops in Calgary go for a premium and if you want to find a spot, you either need to be patient or persistent or both.
So when a new coffee shop comes along, I am ecstatic that more seats and sips can be had around town. Café Blanca is one of the newer coffee houses in Calgary having opened in late 2014. Located at the bottom of one of the residential towers in Eau Claire, Café Blanca is a refreshing and modern take on the coffee shop. A lot of what I enjoy about a restaurant or coffee shop is the ambience – the decor, the seating, the people. This place has it in spades. There's plenty of seating from regular tables to high-tops to counter space. There's also a raised area where families can sit on cozy pillows and it also becomes a stage for entertainment and live shows in the evening. There's even more room in the back with more tables for private events or just to get your own space away from the main room.
The walls are scripted in charming quotes all over the store. My favourite is the one at the sugar and cream station. Dainty coffee cups hang from the ceiling. The room is a careful blend of warehouse chic and simple creativity. It's welcoming without being intimidating.
The menu is also as elevated as the storefront itself. The coffee is made from the finest beans around the world  Ethiopian, Sumatran and Colombian beans. Café Blanca is the only coffee place in Calgary that does the siphon or vacuum brewing technique for coffee. It looks a bit like a science experiment with the glass carafes and specialized heating elements, but the end result is a super smooth and "clean" coffee. I was a little disappointed that my tea latte came from a tea bag considering how premium the rest of the brews were, but it was still super tasty and made with plenty of care.
The store specializes in catering for private functions which explains the high quality food items you don't usually see in a grab-and-go case. Items like the quinoa and kale salad and the smoked salmon sandwich had my tastebuds salivating. The prices are a little higher than other coffee places, but the premium ingredients makes it worthwhile to splurge on.
If you find yourself wandering Eau Claire, make a point to stop by Café Blanca and check out this local, independent shop for yourself. You'll be happy you did.
What's your favourite coffee shop in Calgary? Tweet me @heyseto or comment below.