Finding community love with Local Laundry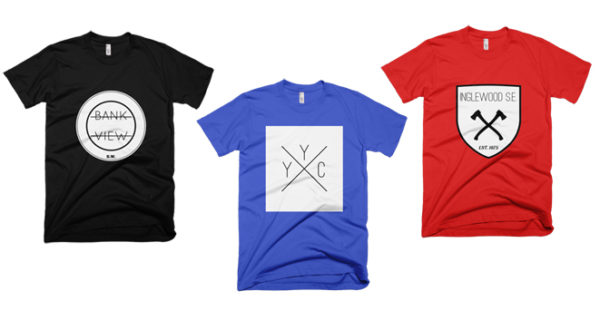 I love things that depict my beloved hometown of Calgary because it embodies home and heritage for me (have you seen my gallery wall?). Being able to wear that love on your sleeve is even better and Calgarians can now do that with the fun and casual t-shirt styles at Local Laundry. I discovered these fab tees online and enjoy the yyc spirit they signify. Many of the shirts show off some of Calgary's most popular neighborhoods and are a great way to show off some local pride. I chatted with creator Connor Curran about what Local Laundry is all about.
How did Local Laundry  and community-based t-shirts come to be?
Connor: I grew up in Calgary and was always amazed at how different and great each community in Calgary was compared to the next. Each community has its own characteristics and secrets that make them so great. I always wanted to create a way to showcase how proud I was to come from Calgary.
When I moved to Sweden to study and travel, I wanted to share, represent and promote how great of a place Calgary was and all of its communities and neighbourhoods that it's made up of. What I was looking for was something that was both fashionable and represented Calgary at the same time. Unfortunately, I couldn't find anything that could match what I had in my mind. I thought why not come up with my own designs and see if there were other Calgarians that are proud of where they come from and wanted to represent them as well.
So I decided to start my own t-shirt company.
How do you come up with the designs?
I wanted really simple, sleek and minimalistic-looking designs that people would want to wear and would not look like a novelty t-shirt. I wanted the designs to represent and promote Calgary and its communities, yet would still be fashionable. I tried to incorporate a little bit of each community's personality or flair. For example, I chose two hockey sticks in the 17th Ave S.W. t-shirt to represent the Red Mile or how I chose to include 'Re-Est.2013' in the Mission  t-shirt to display how people came together as a community to rebuild Mission after the floods.
My ultimate goal is to collaborate with local designers and artists from Calgary and its neighbourhoods to create designs that are unique to each neighbourhood, that show off some of the local landmarks or characteristics from their area. Then each t-shirt could truly be local.
I am always seeking out and would be more than happy to discuss with any Calgary designer or artist who may be interested in participating in this project and create local designs based on their interpretation of Calgary or their neighbourhood.
What is the most 'popular' neighborhood? 
At the moment the most popular neighbourhood based on t-shirts sold is Bankview.

Do you make custom tees for other 'hoods?
We have been approached by a few people that like the idea of a community t-shirt and asked if their community could be included as well. The Elboya community will be putting on a Community T-Shirt Design Contest in the near future to get their residents to create designs that they feel represent their community. The winner's design will be made into a Local Laundry t-shirt. Some designers have already contacted me and are currently working on some designs for other Calgary communities.
Where do you sell your tees?
Our entire operation is based online at http://locallaundryapparel.com/ and we ship worldwide.
Any other cool things we can look forward to from Local Laundry? 
Once we have a few more designs up and gain a little traction, we plan on adding more lines of clothing to the store. Keep an eye out, you might even be able to snuggle up to a YYC or Bankview crew neck sweater or hoodie this fall or maybe a tank top for next spring.