The most adorable pandas at The Calgary Zoo
Squee! I love, love, love giant pandas! These cuddly gentle giants have descended at The Calgary Zoo into their new home at Panda Passage. Calgarians are lucky to have these pandas call our city home for the next 5 years so there will lots of opportunities to check out these lovely bears. For those of you that can't wait any longer, take a look through these photos of these adorable pandas and learn some fun facts too!
PANDA FACT #1
Why are pandas so popular? It may be because they look so different than North American bears and just a little more snuggly (but don't actually try to hug them that is. Looking at you Nenshi.).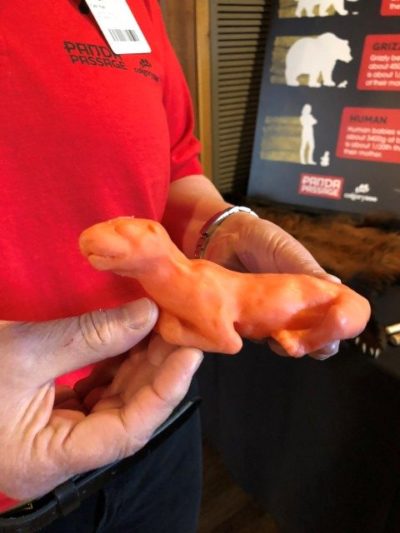 This is how tiny a baby panda is when it's born! The babies will get all their nourishment from their mama's milk to get big and strong.
PANDA FACT #2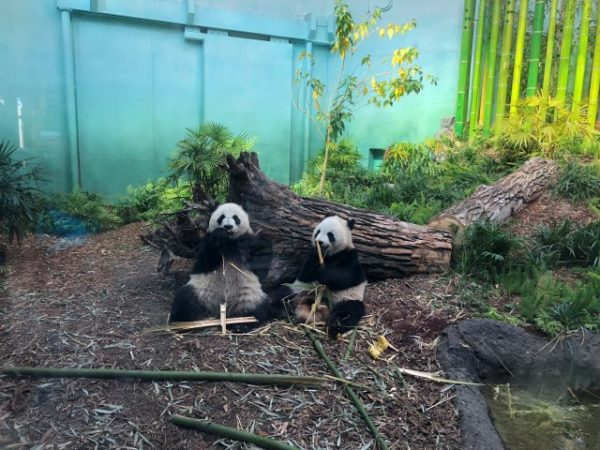 Say hello to Jia Panpan and Jia Yueyue! These young panda cubs were the first baby pandas born in Canada. They will be at The Calgary Zoo over the next year but will be heading home to China sometime in 2019. The zoo will be working on breeding a new set of babies in the coming months.
PANDA FACT #3
There are two adult pandas at the zoo. Papa bear Da Mao is pictured here chomping away on some bamboo. Mama bear Er Shun is a little more shy and stays away from the crowds so I didn't get a chance to see her. If you get to see the fourth bear, please share!
PANDA FACT #4
The panda's new home is Panda Passage at The Calgary Zoo. Formerly the elephant habitat, the zoo undertook an extensive renovation to modify the building for the pandas. A beautiful indoor and outdoor enclosure are available for the bears to settle in.
PANDA FACT #5
Pandas eat over 40 kilograms (90 lbs) of bamboo every day! They have a super strong jaw muscle they use to crack the outer layer of the bamboo to get to the tasty inner layer. Pandas also do not have a thumb so they have evolved with a special elongated wristbone that allows them to be able to pick up items like a fake thumb. The Calgary Zoo in partnership with Hainan Airlines will be shipping in 1,100 kilograms of bamboo twice a week and storing it in a special temperature controlled room. Watch the video above to see how much they love bamboo!
PANDA FACT #6
Because pandas eat so much bamboo, they end up sleeping a lot to help digest all that food. Fun fact: pandas poop up to 40 times a day even while sleeping. That's quite the multi-tasking!
PANDA FACT #7
If you're looking to avoid the lines, I'd suggest trying one of the Giant Panda Breakfasts! Zoo admission, a breakfast buffet and early viewing of the pandas is included.
PANDA FACT #8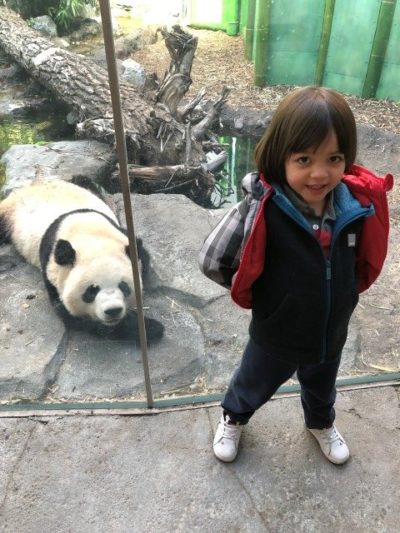 For decades, giant pandas were on the endangered species list, but recently their fortunes have changed for the better thanks to extensive recovery efforts. However, there are fewer than 1,800 pandas left in the wild so caring for these four giant pandas has never been more critical. Through the pandas, The Calgary Zoo will use this opportunity to continue their conservation efforts here in Canada so we can prevent similar situations from happening in our backyard.
The pandas will be sure to be a hot ticket for many months but you can pre-select your visiting time so you can avoid waiting in line. Check out The Calgary Zoo website for the latest panda news.
hosted: Thank you to the Calgary Zoo for hosting me at their Panda Influencer event. I love these pandas!